A hassle-free charging experience for you and your drivers
fast installation • customer support • monthly reporting
Electric vehicles are the future and you can be a part of it.  Pacific Gas and Electric Company (PG&E's) EV Charge Network program is a unique opportunity in which PG&E pays for the construction costs and part of the equipment costs, while Oxygen Initiatives takes care of all of your drivers and all of your hassle.
PG&E will pay for, and coordinate construction of infrastructure from the transformer to the parking space and in addition a portion of the charging equipment cost.
You focus on your business, we keep your EV drivers on the road and happy. Oxygen Initiative lets everyone stay in their lane!
Built to last and look good for years to come, our charging stations make any property look better. Made with ultra durable materials they offer both low maintenance and strong protection against vandalism. Designed for the things you really need at an affordable price.
We understand the area and what it means to own an electric car, which gives us the opportunity to give extra care to our customers.
We love EVs and the people who drive them.
People who own or manage properties with EV charging stations have better things to do than taking care of those stations. That's why we design every step to simplify the entire experience.
Add our selective branding or design your own
Simple status LED indication
Single outlet wall-mounted charging station, built to last and look good for years to come, they make any property look better. Includes an industrial grade communication board, made to last.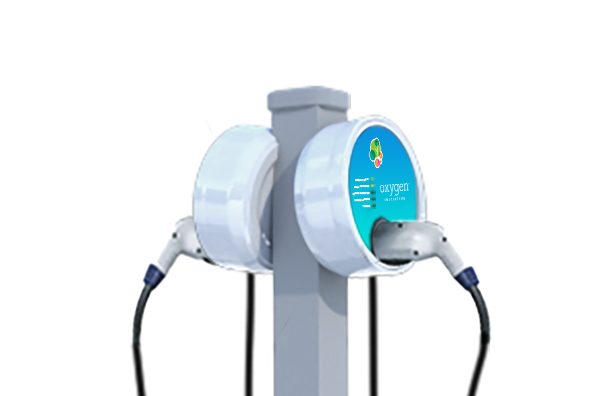 Robust pedestal for single and dual charging outlets
Capable of charging two electric vehicle simultaniously
A practical Level 2 dual outlet station with pedestal to charge two vehicles simultaneously.
Add our selective branding or design your own
Simple status LED indication
Our simple and efficient cable management system is designed so any person can comfortably charge his or her vehicle while keeping the cable clean and neatly stored after each use. Available for both single and dual outlet stations.
Our smartphone app is built to keep drivers happy. It's fast, informative and simple.
The latest web tools allow you to easily manage your stations, control user access, set billing options, and oversee all adminstrative functions
To be eligible for the EV Charge Network program, applicants must meet the following criteria:
Pacific Gas and Electric Company is focused on installing charging stations at Multi-unit Dwellings and Workplaces only.
This includes apartments, condos, businesses, and mixed-use buildings.
1. Space Requirement
All sites must install a minimum of 10 charging stations at 10 designated parking spaces. While 10 is the minimum, more spaces are highly encouraged and may increase a site's odds of being accepted into the program.
2. Agree to Terms and Conditions
As part of the application, site hosts are required to sign off on the program's Terms and Conditions. There are two separate versions based on which ownership model you decide to pursue.
3. Sign Easement
As part of the application, site hosts are required to sign an easement. This easement allows PG&E access to site equipment and is required to ensure PG&E can maintain and keep the infrastructure safe.
Join The Oxygen Initiative
Oxygen Initiative's mission is to make switching to clean transportation simple, empowering and fun. People considering buying an electric car have a few questions, but they're all about one thing: refueling. That's why we focus on simplicity and speed. We make refueling an EV better than buying gasoline.
Based in Southern California, our team strives to always put you first and provide you with a simple hassle-free experience.
Our stations offer a powerful combination of simplicity and durability. Whether you're a site manager hosting our stations or an EV driver, our app keeps you informed but free to focus your day.