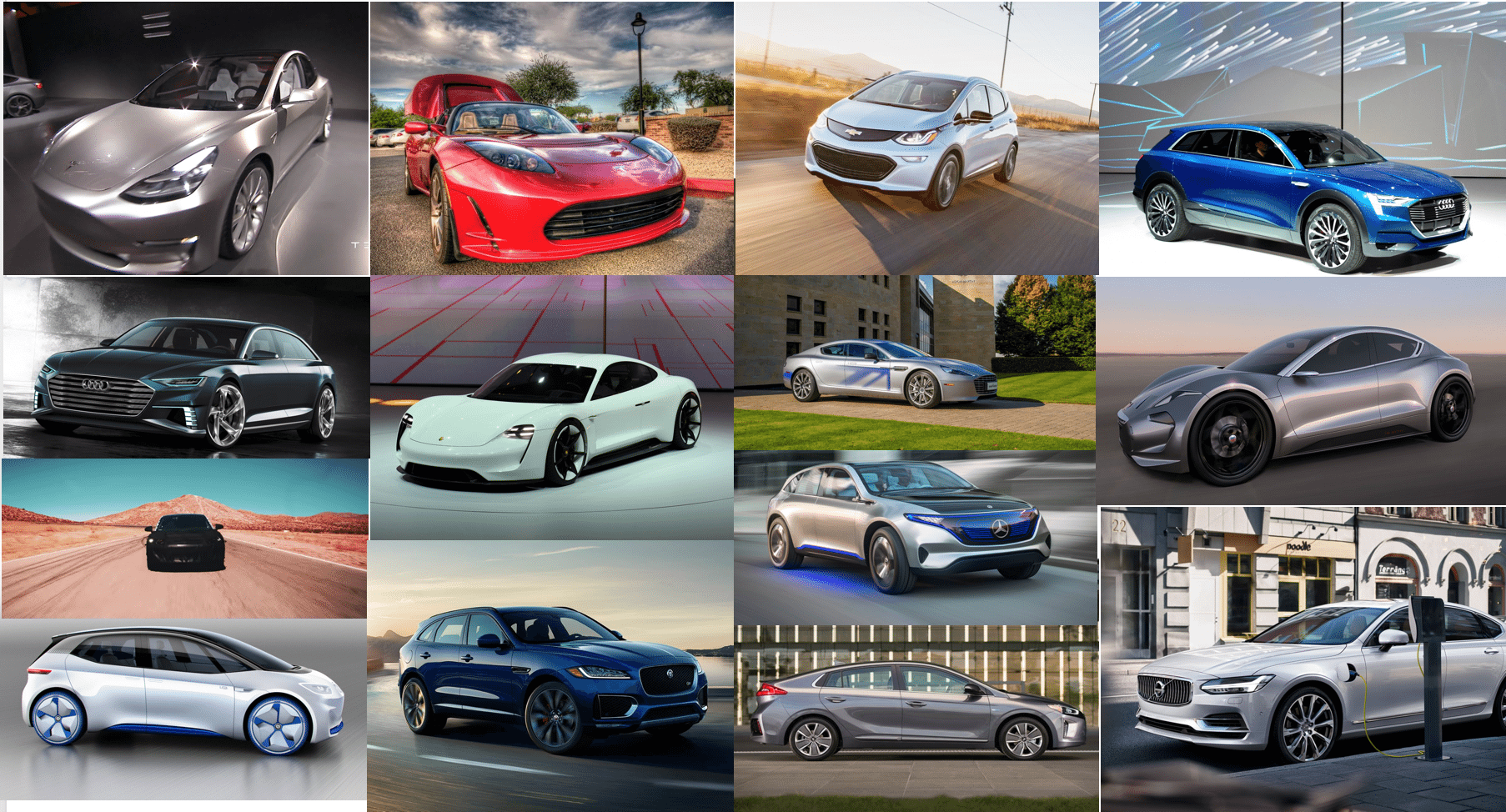 These days, if you are in the market for a fully electric, long-range vehicle, your options are pretty limited.
In fact, Tesla vehicles are currently the only battery electric cars you can buy in the that have an official range of more than 200 miles per charge.
But that is quickly changing.
Most major automakers, including GM and Volkswagen, have vowed to roll out more than one fully electric car by 2020.
Here's a look at some of the vehicles coming to market in the next few years.
Tesla unveiled its Model 3 this year and aims to begin production by the end of 2017.
Tesla
Tesla revealed its first mass market, long-range vehicle on March 31, but the car won't go into production until late 2017, possibly 2018.
The car has a starting range of more than 200 miles per charge and can go form zero to 60 miles per hour in just six seconds.
The car will cost $35,000 before incentives and will be about 20% smaller than the company's Model S. However, it can still seat five people pretty comfortably.
Tesla has previously said it will introduce a next-generation Roadster in 2019.
Dennis Larson/Flickr
Tesla will reveal a new Roadster in 2019, according to a statement by CEO Elon Musk in July of last year.
Almost no details have been revealed about the new car, except for the fact that it will be built for speed. Musk said in the statement that the new car will be capable of going from zero to 60 in less than 2.8 seconds, which is faster than its cars can go in "Ludicrous Mode."
The Chevy Bolt EV is going into production this year.
Chevrolet
General Motors revealed the production model of its first affordable, long-range car called the Chevrolet Bolt EV. The car is currently in production and will have a range of 238 miles per charge, and will cost about $30,000 after a federal tax credit of $7,500.
Audi will launch its first electric SUV based off the e-tron quattro concept by 2018.
Audi's e-tron quattro concept presented at the Frankfurt Auto Show.AP/Jens Meyer
Audi confirmed in January that it was planning to begin production of its first all-electric SUV at its Brussels plant in 2018.
The new vehicle will be heavily inspired by the company's e-tron quattro concept, which the company originally unveiled at the International Motor Show in Frankfurt in September.
The new SUV will have three motors, a range of 310 miles on a single charge, and quick charging capabilities, the company also confirmed in January.
The name of the new car has not been officially announced, however, Autocar reports it may be called e-tron.
Audi is also building an electric sedan to take on the Model S.
Audi
The automaker's chief executive has given the OK for an all-electric, luxury sedan to take on Tesla's Model S, according to a report from Autocar in August.
The car, which may be called the A9 e-tron, will have three electric motors, a range of more than 300 miles per charge, and will also feature level four autonomous driving, according to the report.
Rupert Stadler, Audi's chief executive, told Autocar that the company will have three EVs in its line-up by 2020 and by 2025 it plans to have 25% of the cars it sells will have batteries.
Porsche plans to begin making its Mission E Concept by 2020.
Porsche presented the Mission E Concept electric car at the Frankfurt Auto Show.`AP/Jens Meyer
Porsche also unveiled an impressive electric car concept last September and last December the company confirmed that it would be investing some $1.09 billion in new facilities to begin production of its first all-electric car.
The concept car, dubbed the Mission E, boasts a range of about 310 miles per charge and is capable of charging about 80 percent in just 15 minutes.
However, it's worth noting that the range is likely based on European testing and not EPA standards, so its range could be more in the 240-mile range.
In addition to the long range and quick charging time, the car will also be capable of going from zero to 60 miles per hour in just 3.5 seconds.
Aston Martin has plans to develop its RapidE concept by 2018.
Aston Martin
British luxury car maker Aston Martin said in mid-February that it is teaming up with the Chinese technology firm LeEco (formerly LeTV) to develop a production version of its all-electric Aston Martin RapidE Concept by 2018.
The RapidE concept, which is based on the company's Rapide S sedan, is expected to have a range of 200 miles per charge and price between $200,000 to $250,000.
The company will also be collaborating on "a range of next-generation connected electric vehicles" with the electric car start-up Faraday Future, which is also in a partnership with LeEco.
Faraday Future says it will have a car on the road within the next four years.
Faraday Future
The mysterious car startup Faraday Future is promising it will have a car on the road sometime during the next few years.
The company revealed its first concept car, the FFZero1, at CES in January, but it was a true concept car that is unlikely to go into production.
However, Faraday told Business Insider at CES that it's working on having its first production car on the roads in the next few years. Richard Kim, the company's lead designer, also said its first car will be for the premium side of the market, meaning it will likely price in the same range as a Tesla.
In late October, the company announced that it would be showing off its first production vehicle in January 2017 at CES. The company also recently published a video teasing the car, which appears to be a crossover SUV.
The Volkswagen Group plans to launch several electric cars by the end of the decade, one of which will be a production version of its Volkswagen I.D. concept car.
Volkswagen
Volkswagen's CEO Matthias Mueller said in June that the automaker will deliver more than 30 electric plugin-in models by 2025. Previously, the company has said that it would deliver 20 electric vehicles by 2020.
The company also aims to launch its first fully autonomous vehicle by the end of the decade.
Volkswagen is the parent company of both Audi and Porsche, so we already know that the Mission E and etron quattro are coming. But in October at the Paris Motor Show, the company showed off its Volkswagen I.D. concept car, which is an electric SUV that has a range of more than 240 miles.
The company said to expect a production version of the vehicle by 2020.
Hyundai's Ioniq EV is expected to become available in some markets this year.
Hyundia IoniqueHyundai
Hyundai showed off its line of electrified Ioniq vehicles at the Geneva Motor Show in March. At the time, the company introduced a hybrid, plug-in hybrid, and an all electric model.
The all-electric Ioniq EV will have a range of 110 miles per charge and will become available in the US this winter. Pricing has not yet been revealed.
Mercedes-Benz aims to launch an electric SUV by 2019.
Mercedes-Benz
Daimler, which is Mercedes-Benz's parent company, already offers two all-electric cars. One is called the B250E, which has a range of about 87 miles per charge. The other is its Smart Fortwo electric car, which has a city range of 76 miles per charge.
But the company plans to launch a new all-electric car in 2019.
At the Paris Motor Show in October, Mercedes showed off its Generation EQ concept car, which is an electric SUV with a range of more than 300 miles on a single charge. The car is slated to go into production in 2019 and Mercedes said it is a "close-to-production concept vehicle."